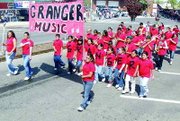 GRANGER - From colorful rides to a color-filled parade, Granger's 58th annual Cherry Festival had something for everyone last week.
The city's main street was filled with parade watchers and floats from around the Lower Valley.
The Miss Sunnyside float received overall top honors with the Sweepstakes award, and the float was first among entries from cities of 5,000 population or more.
Prosser's Junior Miss float was second in the 5,000-plus category, and Grandview's Junior Miss entry was third.
In cities with less than 5,000 population, Harrah had the first-place float and won the Mayor's Trophy. Zillah was second.
Granger's 21st Century float was first among novelty entries.
The Girl Scouts' float was first among service club entries, followed by the Rainbow girls Masonic float in second.
Also marching in the parade were horseback riders, as well as participants young and old.
Students from the Granger School District marched in unison along the parade route, which was led by Sunnyside VFW members presenting the colors.
The weekend also included displays of classic cars and arts and craft booths.