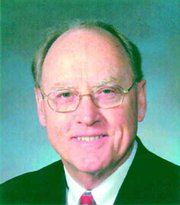 A close friend and political ally of State Sen. Jim Honeyford of Sunnyside swung through this Lower Valley community last week to get the word out that he is seeking a seat on the Washington State Supreme Court.
Saying the judicial branch of government needs to spend more time interpreting the laws already on the books and less time acting as lawmakers, Sen. Stephen Johnson explained he aims to provide that type of leadership if elected.
"The (Supreme) Court needs to swing back to judicial restraint," Johnson said.
A resident of Kent, Johnson has served in the State Senate since 1994. He is giving up his Senate seat to run against Supreme Court Justice Susan Owens, who was elected to the Supreme Court bench in 2000, when she defeated former Yakima County Prosecuting Attorney Jeff Sullivan.
In Washington state, Supreme Court justices are elected to six-year terms. Of the nine-member judicial body, the seats of Owens, former Wapato resident Tom Chambers and Chief Justice Gerry Alexander are up for re-election this year.
Johnson said he chose to seek the Position 2 seat held by Owens because her "...judicial competence is a notch below the other two."
He also puts Owens into the "lawmaker" category, saying she has a track record of wanting to create new law instead of simply interpreting the laws as adopted by legislators.
"The court's job is to interpret the law, not change it," he said.
Johnson has been practicing law in Washington state for more than 30 years. Currently he is associated with the Seattle law firm of Kutscher Hereford Johnson. He was named outstanding legislator of 2005 by the Washington State Bar Association.
Describing himself as given to faithful and restrained readings of the law, Johnson said he wants to bring a breath of knowledge about the operations of the legislature to the state's highest court.
"With the Supreme Court regularly called upon to render interpretations of legislative acts, it is helpful to have a member on the court with an intimate understanding of state government," he said. Johnson said past legislators and legislative branch employees have forged a history of distinguished judicial service on the Supreme Court, including the likes of former Chief Justices James Dolliver and James Andersen, both of whom previously worked or served in the legislature.