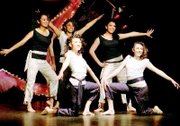 For a moment Rosa Picazo was just a 16-year-old girl in an evening gown.
In the next second, she was the center of a wave of hugs, kisses and congratulations as the new Miss Sunnyside Cinco de Mayo for 2006-07.
Picazo was crowned queen during the fifth annual Miss Cinco de Mayo Pageant held this past Friday at the Sunnyside High School auditorium.
Serving with her on the 2006-07 court will be princesses Veronica Romero and Daneill Gonzalez, who were also crowned last Friday.
The pageant festivities, which had the theme "The Night of the Stars", marked a transition between last year's court and the new Cinco de Mayo royalty.
And the transition could be seen and heard everywhere Friday.
Romero opened her talent presentation with elegant ballet, then switched costumes and dance moves on stage for a hip hop number.
Cinco de Mayo court hopeful Vanessa Morfin's performance ranged from traditional music and dance to merengue. Lucy Avila, another hopeful, turned up the volume by transitioning from a Michael Jackson impersonation to a hip hop number.
But the transition was most notable at the program's conclusion, when now former Cinco de Mayo princesses Veronica Almeida and CaSandra Romero crowned Daneill Gonzalez and Veronica Romero as the new princesses.
That was followed by the grand finale as 2005-06 Queen Maria Belen Ramos crowned Picazo as the new title holder.
Even as music and laughter surrounded her on the stage at the ceremony's conclusion, Picazo already sounded queenly just minutes into her reign.
She said her first priority after receiving the crown had nothing to do with celebrating, "The first thing I'm going to is represent my community."
A moment later Picazo turned with an ear-to-ear grin to enjoy the moment and face a wall of flash bulbs and friends calling out her name.
They were the first of many pictures that will be taken of the Stanford-bound junior and her court during the course of the next year.
And it all changed in a moment.