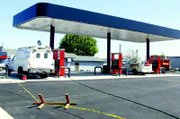 In business for nearly 60 years, Grandview-based R.H. Smith Distributing is providing a face life for its gas station near the Hiway Fruit store on Yakima Valley Highway in Sunnyside.
Until its closure in January of this year, the gas station near the corner of Yakima Valley Highway and First Street was not attached to a specific brand.
That's all changing now, as new Texaco pumps and a sign are taking life at the station, expected to re-open by the end of this week.
"Since Texaco merged with Chevron they are providing incentives to open new Texaco stations," said Rick Smith, whose father opened the Sunnyside gas station back in the 1960's.
"It also gives us a new brand of fuel to offer," said Smith. The company also operates Conoco, Tesoro and Union 76 stations in the area.
For years the previously non-descript station operated on a cash or check only basis, with customers paying at the Hiway Fruit store next door.
Cash and checks will still be accepted, but when the new Texaco opens it will also accept credit and debit cards.
The gas station also has its diesel customers in mind, with an island dedicated to diesel fuel. Smith said the diesel pumps are set up so that a motorist could fuel two tanks at the same time.
Smith said he hopes improvements at the station will be one of many efforts to help bring new business to Sunnyside's west end of Yakima Valley Highway.
One such effort will be undertaken next door at the Hiway Fruit Stand, where Smith said the owners plan to paint the building.
He indicated there would be a ceremony sometime around the middle of this month to mark the improvements at the gas station and the store.
.