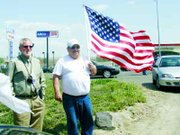 So what are the impacts of a day without immigrants?
Smaller class sizes, for one, as at least half of the 5,000 students in the Sunnyside School District did not attend classes during yesterday's protest of proposals to tighten immigration laws.
"Tons of parents are calling in excused absences for their kids," said Julie Kaplicky, a spokesperson for the district.
"Fifty percent is probably a pretty accurate number," said Assistant High School Principal Ryan Maxwell. There were a total of 636 students absent from the high school yesterday, Maxwell noted, representing 47.5 percent of the student body.
There were reports of some elementary classes having as few as six students yesterday.
The number of unexcused absences in the district is still undetermined, said Maxwell, since parents have up to three days to provide a note following an absence. As of yesterday, the high school still had 508 unexcused absences of the 636 students missing classes.
With such dramatically smaller class sizes, teachers treated yesterday as if was a flu outbreak, said Sunnyside Superintendent Dr. Rick Cole. "Teachers conduct a normal teaching day and then the kids who miss have to make the work up," he said. "It is disruptive when that many kids are gone, but the teachers try to make it a good experience."
While students rallied around the "Day Without Immigrants" movement, the momentum apparently did not extend to school staff.
"Staff's good," Kaplicky said. "There were a couple of personal days pre-arranged in the district yesterday, but those who were scheduled to show up did."
Over at Sunnyside Community Hospital it was business as usual.
"No problems here," said hospital spokesperson Tom Lathen.
Local participation in the no-show movement was not the only immigration-related effort on Monday, as a motor vehicle rally was held along I-82 from Grandview to Yakima to express support for immigration reform. The rally culminated with thousands of people gathering at Miller Park in Yakima for a march throughout that community.
The convoy met in Sunnyside just before 2 p.m. yesterday, turning the Shell gas station near Exit 69 into a parking lot of U.S. and Mexican flags.
"We support amnesty for all immigrants," Jose Luis Zesati said as he waved a U.S. flag to motorists gathering for the car rally. Zesati, a U.S. citizen, called for a boycott of all shops and stores yesterday.
"My goal is to carry a message to Washington D.C. to make good laws for immigrants," said Zesati, a Sunnyside resident who helped organized the rally.
Local police and State Patrol officers directed traffic for the 50 or so vehicles here who joined the caravan. Sunnyside police reported that, other than traffic, there were no problems during the car rally's stop in Sunnyside.