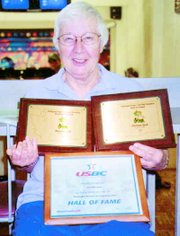 Darlene Spek retired in 1996 after 33 years as an educator in Sunnyside but she hasn't slowed down. She's been involved with the Washington State Women's Bowling Association and was recently inducted into its Hall of Fame.
Spek has been on the Washington State Women's Bowling Association's board of directors for 32 years and it was the other members on the board who nominated Spek for the prestigious honor for her service to the association. She was inducted April 7 in Spokane. She is also a member emerita.
"I was surprised and it was an honor," she said. "It's neat because this is the final year of the Washington State Women's Bowling Association. August 1 it will become a new organization called the Washington State United States Bowling Congress."
At some point in time Spek has served on every committe at the WWBA. "I was chairman of the scholarship committee for 28 years," she said.
The committee would present two scholarships a year to graduating high school students involved with the Young American Bowling Alliance.
"It's wonderful to be able to go over the credentials of the young people in the organization and assist them with their college education," she said.
Spek was also the tournament director of the Queen's tournament for 23 years.
"This is a tournament the WWBA hosts every year," she added. "The ladies in the state take great pride in winning this title."
Spek's best score in the 50 years she's been bowling is a 263. Spek says she is through with leadership positions at the state level but will continue to bowl in local and state tournaments.
Besides this latest honor, Spek is also a member of the hall of fame and a life member of the Lower Yakima Valley Women's Bowling Association.
.