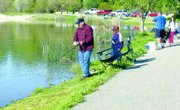 GRANGER - Hisey Park in Granger was the site of the city's 12th annual fishing derby, held this past Sunday in conjunction with the Cherry Festival.
Sponsored by the Granger Lion's Club, the derby drew 43 anglers hoping to lure trout stocked in the lake.
Marcus Gonazales, 11, reeled in the grand prize of $150 with a fish weighing eight and three-eighths ounces and measuring 11 inches long.
Gonzales is from Bellevue, but he represents one of many families originally from Granger, who returned to participate in last weekend's festivities.
Frank Algeria Jr., 9, of Granger had the second biggest catch of the day at eight and one-quarter ounces and 11 inches long. His prize was $75.
"He has won first and second several times in this derby," noted organizer Dan Fonseca.
In third place was Justice Dillman of Bothell. The three-year-old is a cousin to Gonzales and also has family from the Granger area.
Dillman caught a fish weighing seven and five-eighths ounces and 10 and three-quarter inches long. Dillman's prize was a tackle box from Warden's filled with fishing gear.
"It went really great," Fonseca said of the derby. "It's a lot of work, but it's a lot of fun."