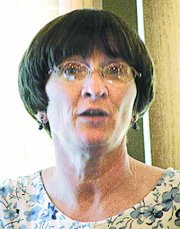 In a rapid fire delivery, Marie Zuroske squeezed a report of the first two years of a $740,827 study of the Yakima River into a half-hour for the Noon Rotary Club this past Monday.
Zuroske is the water quality specialist for the South Yakima Conservation District, which has partnered with the U.S. Geological Survey and Benton Conservation District to spend five years learning about aquatic plants, algae and water quality in the Yakima River.
Spurred on by the concern for fish in the river, the Dept. of Ecology Centennial Clean Water fund granted the project $498,827 with the U.S. Geological Survey Cooperative Program kicking in another $242,000.
Labeled the Lower Yakima River Eutrophication Study, the project went into its third year this past March.
The 2005 study focused on three river reaches near Zillah, Mabton and Kiona.
The study used an Environmental Protection Agency dive team to scoop plant samples from the river, floated rafts with experts on board and installed continuous monitors in the river to test the fluctuating levels of oxygen and phosphorus.
"The monitors were $10,000 a pop, so we could afford only three," said Zuroske, who also did a lot of slogging through river mud.
Life in the river is what this five-year study is all about, Zuroske emphasized.
And the study to date shows that dissolved oxygen concentrations are low enough to be a serious concern in the Kiona reach. Plant and algal metabolism was 50 to 100 times greater in the Kiona reach than in the Zillah reach, which wasn't good news, but the turbidity was at or near zero, which made for crystal clear water from late May to early August.
Zuroske described it as a mixed blessing.
She noted that factors apparently influencing changes in productivity throughout the season include turbidity, photosynthetically active radiation and water temperature.
She explained that the great masses of green plants that can be seen downstream of Benton City are water star grass. The study also pointed out that rooted aquatic plants can grow at depths up to 18, 9 and 12 feet in the Zillah, Mabton and Kiona reaches, respectively. The study suggested that light no longer limits plant growth, as it may have in past years when turbidity was higher, due to sediment from farm soil entering the river.
"What we had to learn was where are the plants, where are the worst and best," said Zuroske, whose deck at one point in the year was draped with plant samples the EPA dive team had gleaned from the river bottom to be dried and weighed.
One branch of the study had four, two-person teams working four days to cover 42 sites to study nutrient concentrations in the river and all major irrigation return drains, creeks and treatment plants.
"That was one small piece of what we did in 2004, but it shows you why the study costs so much," said Zuroske.
She explained to the Rotarians why excessive plant and algal growth in the river is a problem.
She noted that adverse effects are low dissolved oxygen concentrations and high pH, hindrance to recreation, aesthetics, decrease in water velocity and increased depth, reduction of spawning habitat for salmonids and providing habitat for fish species like bass that prey on salmon.
She pointed out that there are beneficial effects from moderate plant and algal growth, such as providing a food source for aquatic organism, a decrease in turbidity, providing habitat for some fish and invertebrate species, preventing algal blooms by providing shade, anchoring soft sediments and providing a food source for mammals, birds, reptiles and amphibians,
The plan for 2006 is to try to answer four key questions:
-Are nutrient concentrations low enough in the Zillah reach that small improvements could limit algal growth?
-Which would improve the river the most, reducing nitrogen or reducing phosphorus?
-Should nutrient-reduction strategies focus on surface water or groundwater?
-What are the nutrient concentrations in the river bed?
"We'll give it our best shot to answer them," she said.
The Rotarians took to the fast pace the wiry, athletic Zuroske set for them yesterday, and weren't surprised to learn that she is part of the White Pass Ski Patrol.