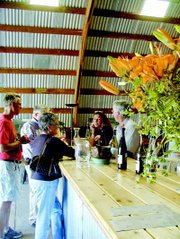 Grilled salmon, a glass of Gewurztraminer and good friends-what more could one want at the grand opening of a new winery?
A sip of Syrah, a taste of Riesling, you say?
All that and more were offered to visitors this past weekend at Steppe Cellars, a new winery at 1991 Chaffee Road overlooking cherry orchards, a vineyard and the shrub steppes, from which it took its name.
Steppe Cellar may be unique in that it is located in a quonset hut, which gives a definite informality to a visit there. But its shiny overhead arch gives a protective feel of warm hospitality.
Muskat Pottery by Carmen McKinney and Wendy Appelgate are on view and for sale, and art work adorns the walls.
A flowery touch was added wherever one looked, inside as well as out, with a bouquet of fresh flowers gracing even the outdoor coffee bar and porta-potty.
Winery hours are 10 to 5 Thursdays through Monday, with an extra hour on Saturdays when it closes at 6 p.m. To reach the winery, head north from Sunnyside on Yakima Valley Highway, turn left at Maple Grove Road, then left on Chaffee Road.
&nbs