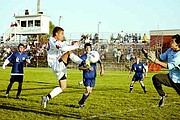 Looking to secure the league's No. 2 spot in the playoffs, the Sunnyside Grizzlies dismantled the Ellensburg Bulldogs 5-0 in Tuesday night's soccer game.
Starting nine seniors to give them some playing time, Sunnyside Coach Juan Pineda said Daniel Ramos scored the first goal in the sixth minute of the first half. Ramos was assisted by Silvano Ramos.
Silvano Ramos scored next on an assist from Miguel Galvan in the 26th minute to give Sunnyside a 2-0 lead.
"At halftime I told the team that West Valley had just lost at Hanford and that pumped the guys up," Coach Pineda said.
Although West Valley did lose they lost in overtime so they still received a point. Because of that point they tied with Sunnyside for the second spot.
In the second half Sunnyside wasted no time adding to the lead. In the third minute Miguel Galvan sneaked a goal into the net with Freddie Sanchez assisting him. Galvan pushed the ball past a charging Ellensburg keeper for the goal and a 3-0 lead.
In the 17th minute Freddie Sanchez scored a goal, assisted by Jose Ramos. This gave the Grizzlies a 4-0 lead.
Jose Ramos then scored the last goal of the regular season off an assist by Joel Jimenez in the 32nd minute for a 5-0 lead.
"The last three years we've really learned to play collectively and you're seeing that now," Pineda added.
The Grizzlies (8-4, 12-4) will play West Valley in a mini-game Thursday, May 4, at 7 p.m. in Wapato. The teams will play two 10-minute halves to decide the number two seed in the playoffs.