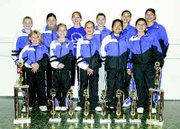 Martin's All-Star Show team competed in the "I Love Dance" competition held in Portland, Ore. April 22 and 23.
The Sunnyside team took home seven first-place trophies along with second-place finishes in two events.
"This is big," Linda Martin said of her team's victories. "This is a big event. I was real proud of them. A lot of them have never had this experience before. They've never competed. To see all the dancers from the other places and to see what they can become and how good they can get, it's great."
Dancers from Canada, Washington and Oregon competed in the competition.
Martin has been teaching dance for 42 years. She had a dance studio in Sunnyside for a brief time in the 70s and has run Martin's School of Dance in Sunnyside since 1988.
The school currently teaches ballot, tap, jazz, hip-hop, clogging and Irish step dance.
"This summer we'll add ballroom dancing," Martin said. She said she teaches ages 3 and up but for the ballroom dancing, only ages 8 and up will be taught.
This is the second year Martin's School of Dance has had the "show" team. Most of the dancers have been dancing together for two years but there are some new dancers on board.
The 11 members of the "show" team spend an additional four hours a week practicing on top of regular classes.
At the competition in Portland, Martin's School of Dance took place first place honors in the hip-hop trio for ages 9 to 11 and 12 to 14.
The team took first place in the clogging trio division for ages 12-14. They also received first place in the clogging group category for 9 and 11-year-olds.
The team took first place in the jazz trio for ages 12-14 and first place in the tap dance group for ages 12-14.
"I was very proud of them," said Cheryl Crossley, one of the team's coaches. "They worked very hard every Saturday on top of working their busy dance schedule."
This will be the only competition for Martin's All-Star Show team but they do other events. "We dance at Sunshine Days, nursing homes and parades," Martin added.
The next big event for the school will be its recital June 23-24. More than 130 dancers will show what they've learned. The recital will be held in the Sunnyside High School auditorium at 7 p.m.