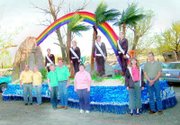 The Washington Trust for Historical Preservation has given Sen. Jim Honeyford its "2005 Landmark Deeds Award for Public Service" in recognition of his outstanding contributions to protecting Washington's cultural heritage.
Honeyford (R-Sunnyside) accepted the award on April 21 in Yakima.
"I am pleased and honored to receive this award for work that has not only helped preserve our history, but has also brought me great personal satisfaction," said Honeyford.
"All too often we are quick to tear down historical buildings and other items that offer a link to our past. It has been an honor and a pleasure to find a way to preserve those things for future generations to see and enjoy," he said.
Honeyford is co-chair of the Legislature's "Heritage Caucus," a group of lawmakers that introduce and support legislation that promotes state and local history, art, museums and other historical entities. He is also a member of the Historic Courthouse Steering Committee, the State Capitol Legislative Building Rehabilitation/Renovation Oversight Committee, the Capitol Furnishings and Preservation Committee, and a board member of the Washington State Historical Society.
Locally, Honeyford has helped secure state funding for renovations of the Maryhill Museum of Art in Goldendale and the Franklin County Courthouse in Pasco.
"I will continue working with my fellow legislators to find ways to preserve our past and share it with today's generation of young people," said Honeyford. "Once something is gone, it's gone. But if we can make it work, it's wonderful to see our historical buildings and other treasures restored to their former beauty for our children and grandchildren to enjoy.
"This award is not only an honor, but additional motivation to keep making historical preservation a top legislative priority," he added.