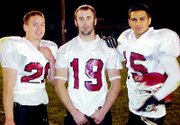 KENNEWICK - Being the defending champions of the Evergreen Football League makes the Tri-City Knights huge targets.
The Knights won the first Evergreen Bowl against the Walla Walla Stars last season. This year they face a big challenge of trying to repeat with so many teams gunning for and determined to knock the champs off.
On April 22, the Knights played their rival, the Yakima Mavericks, beating them 58-44. This was an important game for both teams because it cleared a path for the Knights to qualify for the playoffs if they could get past the Wenatchee Valley Rams.
In tough, windy game conditions, the Tri-City Knights beat the undefeated Rams 33-21 to create a three-way tie between the Rams, Knights and the Blue Mountain Stars. All three teams have a 4-1 record.
The Knights have three games left on their schedule before they hope to start the playoffs.
May 6 they play the Stateline Miners in Idaho. May 13 the Knights host the Spokane Sabercats in Kennewick and May 20 the Knights will play the Wenatchee Valley Rams again in Wenatchee.