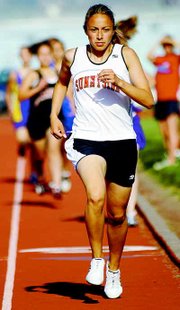 Sunnyside senior Christy Linde again broke her own school record in the girls 110 hurdles and won two events overall to lead the Lady Grizzlies to a second-place finish in a home MVL track meet on Thursday.
In boys action, Andrew Gonzalez won two events for Sunnyside as the host Grizzlies placed third in the home meet against Selah and Hanford.
Linde outpaced the field by nearly two seconds in the 100 hurdles, recording a school-record time of 15 seconds. Linde was also victorious in the 300 hurdles with a time of 47.2.
Teammate Claire Schilperoort was victorious in the javelin with a mark of 108-2 and the Lady Grizzlies' Brenda Barrios was third in the javelin with a mark of 90-0.
Sunnyside's Teresa Ramos broke the tape for first-place honors in the 3,200 by running a time of 13:22. Evelyn Candido, also of Sunnyside, was third in the 3,200 in 13:59.
Schilperoort was first in the discus with a throw of 97-11 and teammate Maria Ramirez recorded a personal best throw of 96-8 for third place in the discus.
Carly Dahlstrom and Sarah Kilian placed second and third, respectively, in the shot put with throws of 30-2 and 29-6.
Yanet Candido was second in the 1,600 for the Lady Grizzlies, with a time of 5:38.2. Ramos was third in the same event, in 5:52.0. Hanford's Anne Staehels won the event with a time of 5:36.1.
Sunnyside's Fatima Ruelas earned second-place honors in the 400 meters with a time of 1:04.7. Hanford's Blake Loos was first in 1:04.1.
Jordyne Jaquish was third in the high jump with a mark of 5-0, and Linde was third in the triple jump with a leap of 34-0.
Candido, Ramos, Jaquish and Taylor Gardner teamed up for a second place time of 4:35.5 in the 4x400 relay. Hanford was first in the event with a time of 4:24.
As a team, Hanford was first with 76 points, followed by Sunnyside and Selah in a tie for second with 56 points.
In boys competition, Sunnyside's Andrew Gonzalez earned first-place honors in the 400 (54.9) and 3,200 meters (10:31).
Teammates Gracen Gonzalez and Sterling Scott were second and third, respectively, in the 3,200 with times of 10:54 and 11:01.
Eric Rinehold set a personal best in the discus, winning first-place honors with a throw of 130-4.
Michael Graham was second in the 110 hurdles for Sunnyside with a time of 16.8, and teammate Roy Haringa followed in third by posting a time of 17.2. Selah's Zach Lawton won the event with a time of 16.16.
Scott was also second in the 1,600 for Sunnyside, recording a time of 4:56.6. Hanford's Lance Kindle won the event in 4:43.5.
Graham earned third-place honors in the javelin, with a throw of 128-10. He was also fourth in the pole vault, clearing 13-0. Gilbert Villalobos was fourth in the 800 with a time of 2:18.3.
Haringa was second in the 300 hurdles, posting a time of 45.1. Selah's Zach Lawton had just enough to outpace Haringa with a first-place time of 43.8.
Sunnyside's Jacob Rogers finished in second place in the 800 meters, just missing first by two one-hundredth's of a second in 2:08.3. Hanford's Tim Richard won the 800 in 2:08.1.
"It was a good meet overall," said Coach Robin Bryson. "There were a lot of good performances and I think we're ready to do well at Districts next week."