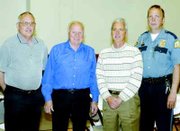 Friends, family and co-workers gathered at the Sunnyside Community Center yesterday to say goodbye to Jim Rivard.
Rivard has been an officer at the Sunnyside Police Department for 30 years and three months.
"Jim has always been more than willing to step up to whatever request is made of him, and to see to it that it is carried through to completion," Sunnyside Police Chief Ed Radder wrote in recommendation letter for Rivard. "His dedication to his employer has at times come at great expense to himself and his family life, but I can honestly say I have never heard him utter a complaint about a task placed in front of him."
Rivard started with the Sunnyside Police Department Feb. 9, 1976. He spent 20 years on patrol, five years as a detective and five years as a school resource officer. He also spent time as a training sergeant and took on a multitude of other responsibilities, such as promoting the Law Enforcement Special Olympics effort.
As former police chief Wallace Anderson once wrote in September 1979, "His work ethic is one of a honest day's work for a honest day's pay."
What is Rivard looking forward to doing now he's retired?
"I'm going to stick around for awhile," he said. "The city manager offered me a job and I'm going to take it. I retired from the police force on April 30 and went to work for the city on May 1. Isn't that something?"
Rivard was talking about his new position with the city as a code enforcement officer.
During Rivard's 30 years of service, he worked under four police chiefs.