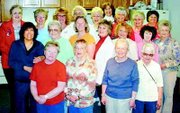 Lower Valley Hospice and Palliative Care honored volunteers who have served at the Hospice Benefit Shop (HoBS) in Prosser, at a special meeting April 24.
The 20 volunteers who attended viewed a power point presentation highlighting the history of hospice and how hospice care can benefit patients and families facing an end stage illness.
The orientation was followed with a luncheon and a floral gift for each one in attendance.
The HoBS resale shop is located at 612 Fifth Street in Prosser. The shop is run entirely by a volunteer staff of 28.
In February 1998, the Lower Valley Hospice Benefit Shop initially opened its doors with the help of Jan Witcraft, the community and the generosity of Mr. and Mrs. Hoefer. Since that time and through the continued community donations of clothing, jewelry, collectibles and other things, the shop has raised many dollars to use for hospice services that are unfunded patient care expenses.
The proceeds resulting from the resale of these donated items has and continues to enable Lower Valley Hospice and Palliative Care to continue providing the most comprehensive end-of-life care to its patients, families, friends and neighbors that people have come to expect.