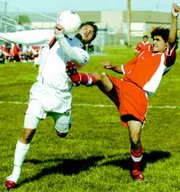 Playing the Prosser Mustangs in the first round of the Regional tournament, the Sunnyside Grizzlies beat the visiting Mustangs 6-0 Saturday to advance in the playoffs.
"We are moving to 4A next year and our team knew that and they wanted to have a good conclusion with our rivals," Sunnyside Coach Juan Pineda said.
The Grizzlies scored early and often. The first was in the fourth minute of the first half. Miguel Galvan received a pass from Alex Aguilar in front of the goal. Galvan battled the keeper and managed to push the ball past the keeper for the goal.
Sunnyside made it 2-0 eight minutes later when Daniel Ramos took a long, 40-yard shot. "It seemed like an easy shot but it made it to the net," Pineda said.
Silvano Ramos made it 3-0 with some fancy footwork. He took a pass from Daniel Valencia and maneuvered through several Prosser players and then blasted the ball past Prosser's keeper.
In the 37th minute of the first half Aguilar scored Sunnyside's fourth goal.
"This was probably the most beautiful goal of the day," Pineda said. "Alex received a long ball from Luis Perez and he applied a bicycle move on a Prosser defender, then rocketed a shot in the upper hand corner of the goal. There was nothing the keeper could do. It was one of those perfect shots you only see a couple times a year."
In the second half Sunnyside's Joel Jimenez picked up a loose ball and blasted a power shot by the keeper. This made the score 5-0.
Aguilar scored again when he received a pass from Galvan and placed a soft shot that kissed the post and then went inside for a goal.
The Grizzlies move up in the playoffs to play East Valley of Spokane at Central Valley High School in Spokane, Tuesday, May 9, at 5:30 p.m.
"I thought our kids did great," Pineda said. "Our defense is playing solid and our offense is finishing up the plays. If we come out like this for our next game, we can come back home with a victory."