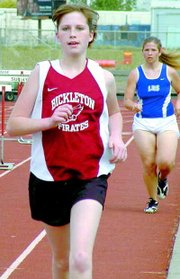 Mabton's track and field team placed fifth in a field of eight at the Greater Columbia B League Championship meet this past Friday in Sunnyside. Mabton's team scored 61 points with Bickleton in sixth place with 42 points.
Meet leader Riverside Christian took first with 148 points.
The only Viking bringing home a first place finish was Lupita Gomez, who leaped to a 31-10 triple jump victory. Her 14-7 in the long jump also gave her a second place finish.
Mabton Viking Moises Guitterez brought home two second place finishes, going over the 110m hurdles in 7.1 seconds and the 300 m hurdles in 44.7.
Third place finishers for the boys were Luis Quintero in the 110m hurdles, Arnold Pineda, who ran the 400m race in 58.0, and Robert Marquez, whose 43-8 shot put was his personal best.
Lady Vikings bringing home second place honors were Sara Vasquez, who ran the 800m in 2:32, and Trishi Williams with a javelin throw of 107-2.
Daniella Aguilar took two thirds, with a 14-6 long jump and scoring her personal best of 31-4 3/4 in the triple jump.
Bickleton's Pirates had a rougher time of it on the track and in the field, snaring only four top three spots.
Eric Hess scored a first in the discus, tossing it 124-8. Junior Hernandez came through the 3,200m in 10:57 for a second place finish. Cody Loomis chalked up two thirds for the Pirates, in the pole vault at 9 feet and taking the high jump at 5-4. Lady Pirate Danielle Raschko ran her 3,200m event in 14:01 for a third.
There were four Lady Pirates at last Friday's meet and seven Bickleton boys.
Coach Darrel Lang said four Pirates-Andrew Venema, a pole vaulter and hurdler, Patrick Maeder, Trisha McBride and Jeannette Jarvis-will return for the District meet this Friday in Wapato.