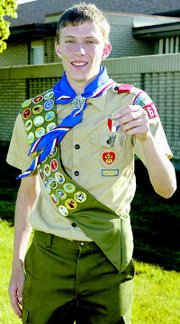 After eight years in the scouts, Sterling Scott reached the pinnacle of his scouting career last Saturday as he was promoted to Eagle Scout in a ceremony at the Church of Latter Day Saints.
According to Gary Martin, a church liaison and sponsor of scouting unit 635, only 3 percent of boys who start the scouts will make it all the way up to Eagle Scout.
"It takes a lot of persistence, determination and will power to make it all the way through," Martin told Scott during the ceremony. "Never say you were an Eagle Scout, Sterling. You say you are an Eagle Scout because you will be one for the rest of your life."
Scott joined the Cub
scouts when he was eight years old. "I thought it was fun," he said of his early experiences. "We did lots of stuff and played games every now and then."
When his years in the Cub Scouts were winding down and he had to make a decision to move up to the Boy Scouts, Scott's brother was there to help him make the decision. His brother was in the scouts so he followed him.
Scott started as a boy scout and then became a tenderfoot scout. After that he moved up to second class scout and then to first class scout. After first class scout comes Star scout, then Life Scout and finally Eagle Scout.
The last three levels of scout are earned through gaining merit badges.
"There are three ways to get merit badges," Scott explained. "You can go to camp to get the badges, through troop activities and on your own."
Some of the required badges Scott had to earn were his swimming badge, environmental science badge, citizenship in the community badge, life saving badge and citizenship in the nation badge.
"Of all the boys that have come along he's the kindest boy I've ever seen," Martin said. "He wants to do well and excel in everything he participates in. If you ask him to do something it will always get done."
Scott thanked everyone who supported and helped him achieve his goals.
"It's an honor to finally achieve my eagle," he said. "It's been a long process. Some of it has been tough and challenging."
Scott encouraged the younger scouts to keep going and to try for their eagle. "It is obtainable," he told them.
The 16-year-old junior at Sunnyside High School said one thing he learned in scouts is to be prepared and to do your best. "Expect the unexpected," he said.