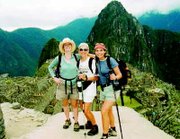 Bicycling 120 miles over two days is just another jaunt for Ruth Strang, a 77-year-old West Riverside Avenue resident who moved to the Sunnyside area last fall.
She'll typically bike six miles on the days she lifts weights, and 10 miles-as far as the Outlook cemetery-on other days.
"There are some times when I have to tell myself I need to get out there," she said of her biking routine. "But I just enjoy it," she says of bicycling. "You see so much more on a bike."
Strang has seen quite a bit of countryside on her 18-speed bicycle, including four 100-mile rides as fundraisers for Multiple Sclerosis.
She figures she's raised more than $4,000 for MS research in her rides. "That's the best part of all," she said.
Strang's rides have included an MS fundraiser round-trip from Yakima to Salmon la Sac, near Cle Elum.
Another fundraising ride was biking round-trip from Ellensburg to Wenatchee. "The wind was the worst part of that ride," she recalled.
Heat was also a factor on the Ellensburg to Wenatchee ride.
"I was only three miles from Wenatchee and I didn't know if I was going to make it," Strang said. "Then I saw a sprinkler in a field next to the road and I went out there and stood in the sprinkler and it refreshed me enough to keep going."
Strang said she's always enjoyed bike riding, but began pursuing it more after her husband Francis "Flicka" Strang passed away in 2002.
Last fall she moved from White Swan to Sunnyside to be closer to her daughter Doris and son-in-law Jeff Matson.
With summer just around the corner, Strang usually would be preparing for another 100-mile ride.
But this year the active senior citizen-she volunteers at Washington Elementary School and is a volunteer for Hospice- will forgo the ride to pursue hiking.
Strang has already climbed portions of Mount Rainier and Mount Whitney, a California peak which has a higher elevation than Rainier.
"I have a t-shirt that says I climbed Mount Whitney," she giggled with a sparkle in her eye. "But then I have a little button I wear above it that has the word 'almost'."
Strang's hike this year will take her to Croatia, followed by a visit with family in nearby Budapest, Hungary.
While biking and hiking keep her 77-years-young, Strang said she can't take all the credit for her physical condition.
"God's been good to me," she said. "He gave me a good body."