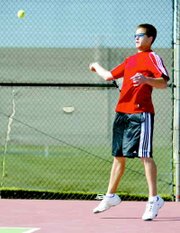 The Sunnyside boys and girls tennis teams both lost in the regular season finale against West Valley on Monday.
With the Sunnyside boys assured no worse than a second-place finish in the MVL, the visiting Rams were playing for a portion of the second-place spot.
"They were high-fiving between points," Sunnyside Coach Troy Whittle said of the West Valley boys who rode their momentum to a 3-2 win over the Grizzlies.
Danny Plesha cruised to win in singles play, 6-0, 6-0 over the Rams' Torrey Brantner.
But West Valley evened the boys match at 1-1 when Clay Burke defeated Hunter Van deGraaf 6-1, 6-2.
Sunnyside prevailed for victory in No. 1 doubles, as Tyler Thompson and Jake Wavrin defeated West Valley's Kurt Liebrecht and Curtis Moore 3-6, 6-2, 6-3.
But the Rams rallied to take the next two doubles matches for the team win.
In No. 2 doubles, West Valley's Seth and Cyrus Bricel beat Mitchell Sanchez and Jesus Alquicira 2-6, 6-2, 6-1.
The Rams' Eugene Kim and Adam Sherman followed with a 6-1, 7-6 win over Justin Snyder and Jacob Kresse.
The loss dropped the Sunnyside boys to 9-3 in league play and 11-3 overall.
In girls play, Sunnyside was defeated 5-0.
Brook Foster defeated Sunnyside's Jerika Martinez 6-1, 6-1 and West Valley's Shea Oswalt defeated Jessica Gudino 6-1, 6-0 in singles play.
In No. 1 doubles, Jayme Gilmore and Heather Hickman defeated the Lady Grizzlies' Regina Mendes and Helen Shuttleworth 6-0, 6-2.
West Valley's Sarah Cooper and Amanda Butler prevailed in No. 2 doubles, 6-3, 6-3 over Capri Miles and Hannah Paulakis.
The Lady Rams made the sweep complete as Corrine Hahn and Laura Sainsbury defeated Addy Hernandez and Gayle Hansen 6-3, 6-0.
The Lady Grizzlies concluded the regular season with a 2-10 record in league play and 3-11 record overall.
Both the boys and girls teams gear up for District tourney play this Saturday.