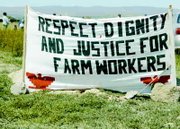 Saying they want more money and to be treated fairly, some asparagus cutters that work George Johnson's asparagus fields went on strike Monday.
George Johnson owns five fields in Sunnyside and all but one were cut yesterday. The lone field not to be cut is just north of the King China Buffet restaurant.
"We're striking because we want a raise," said asparagus cutter Fernando Valles.
The workers are upset because they say they are not getting paid fairly. They cite the amount of money they received last year to the amount of money they are receiving this year.
The workers say they get 17 cents per pound of asparagus they cut. They would like 20 cents per pound and they would like to get paid on at least 85 percent of the weight they cut.
Johnson wouldn't confirm he pays his workers 17 cents per pound, citing privacy issues, but added he pays more than that.
Johnson says the reason the farm laborers aren't making as much money this year as they did last year is because the weather has been bad.
"We've had some nights of freezing weather and some wind," he said.
This causes the asparagus to be rated lower when it comes in to the processing plant. Because the asparagus is being rated lower, the cutters aren't making as much money.
"Historically, asparagus evens out over the season and usually produces as much weight as the year before," Johnson explained.
He said he realizes people don't like it but there's not much he can do. He says he pays his workers fairly and treats them fairly, too.
Johnson didn't seem too concerned with the strike. "I know I have some excellent workers and they've been good to me and I've been good to them," he said. "I expect them to show up in the morning for work," he said.
A check this morning of the asparagus fields revealed all the fields being cut. A lady who did not want to be identified said the workers were told they would be paid 19 cents per pound with a 2 cent bonus.
This, the workers say, is a fair deal but they are still taking a wait and see attitude.