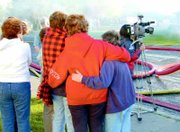 An exploding barbecue grill and west winds blowing at 15-20 miles per hour combined to send flames roaring through Robert Toomer's Sunnyside home at 1204 Sunset Place at 6:30 p.m. yesterday.
The fire wiped out two cars at the home and another at a neighboring home, which also received fire damage to the roof.
Sunnyside firefighters, under the direction of Chief Aaron Markham who was first on the scene, were able to prevent the blaze from spreading further into the neighboring home, but Markham estimated that the Toomer residence was a total loss.
Markham said when he arrived, flames were coming from the front doors of Toomer's double car garage.
Within minutes, the house was obscured by billowing clouds of smoke as the wind whipped the flames and firefighters poured on the water. It took about 30 minutes for them to get the fire knocked down to a point where it was safe to move from a defensive attack to an interior attack to make sure the fire was completely out, Markham noted.
"The fire originated from a barbecue that was located on the west side of the structure on a back deck," Markham reported.
"The homeowner had just finished cooking. He had just turned off the control valves to the barbecue, but there was still a small amount of grease burning on the grill. He then shut the grill lid and went inside the house. After a few minutes, he heard a loud noise outside and noticed the BBQ was on fire. He ran outside and attempted to put the fire out with a garden hose, but the flames kept getting larger, so he then ran back inside the house and exited the opposite side with his wife," Markam said.
Yesterday a tearful Bobbi Toomer stood watching her home being destroyed as 20 firefighters fought to save it. This morning, she said, "I think I'm going to be ok, but your life is upside down now."
The sequence of events leading up to her evacuation of the house is not quite clear in her mind today.
"We had just sat down to dinner," she recalled, "when we heard a crackling outside and Bob went out to see what it was. We saw the fire and he told me to call 911 and I did, and he grabbed a hose," said Bobbi, adding that she couldn't remember at what point she heard an explosion.
"I just head this explosion and prayed that Bob would be all right. We got out of the house and I know I got one bite of dinner," she said.
"I think if you ask me in a year, I'll feel better," she added.
As a temporary measure the Toomers intend to move back into their former home on Terry Street. It's been sold, Bobbi said, but the papers won't be signed until July.
Fire Chief Markham estimated the loss between the two homes and three cars at $287,000, but insurance adjusters were expected to visit the fire-damaged structures this afternoon. The Toomer residence was a single story, wood frame house.