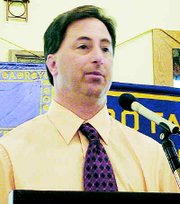 Cincinnati Children's Hospital in Ohio, with 7,000 employees, is saving money by employing 55 developmentally disabled workers, and Tom Gaulke thinks hospitals in Yakima Valley could do the same.
Gaulke, Chief Operations Officer of Provident Horizon Group in the valley, heard about the program, called Project Search, from a hospital spokesman.
He learned that the Ohio hospital is tapping into a work force that most people thought would not be up to the jobs the hospital needed filled. But the result has proven otherwise.
The physically or mentally challenged employees are trained to clean toys, stock supplies, serve as couriers, file, clean and prepare instruments for sterilizing, enter computer data and various other jobs.
One of the new employees has saved the hospital $240,000 by relieving a more highly paid technician of the job of cleaning the cords on oxygen sensors that have to be cleaned and tested after every use. Another added hours onto a therapist's client list by cleaning and sterilizing a therapy room after sessions, a job performed previously by the therapist.
Supervisors at the Cincinnati hospital reported the friendliness and enthusiasm shown by the new work force inspires their co-workers. They have also proven to be dependable, accurate and reliable. One supervisor noted that absenteeism is no longer a problem.
Gaulke said staff training at Provident Horizon Group has already begun, and a team will be sent to Cincinnati to further learn the techniques that will help them train developmentally disabled for similar work in the valley.
"We encourage the hospitals and schools to hire the developmentally disabled, not because it's the right thing to do, not out of charity, but because of bottom line economics," said Gaulke.
He was carrying the message of this new window of opportunity to the Sunnyside Noon Rotary Club yesterday, actually pinch-hitting for a guest speaker who was forced to cancel yesterday's appearance at the luncheon meeting of Rotary of which Gaulke is president.
"We hope to get 30 to 40 people in the valley involved in Project Search," said Gaulke, who already has one placed at Yakima Valley Memorial Foundation's Children's Village in Yakima.
On the local level, Provident Horizon Group already has 250 developmentally disabled people at work each day in the valley. If Gaulke has his way, Cincinnati Children's Hospital's training techniques will be put to work in this area to open the door to regular and higher paying jobs for even more...while saving the employers money.