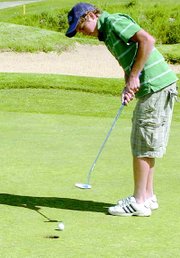 For the first time in at least 10 years, maybe ever, the Grandview High School boys golf team finished CWAC South League play in the second place spot.
"It's our best finish ever," said Grandview Coach Dave Uggetti.
"The kids really stepped up and came through yesterday," he said, explaining his Greyhounds and East Valley were tied in the league standings heading into Tuesday's league finale, hosted by Grandview at Black Rock Creek Golf Course.
Othello (20-0) easily ran away with the scoring title yesterday, shooting an aggregate 313, but in the race for second the 'Hounds tallied a 342, compared to East Valley's 344. That gave Grandview a second best 12-8 league record, compared to the Red Devils' 11-9 mark. Naches, with a team score of 370 yesterday, finished in the fourth place spot in the conference standings with a record of 7-13, while Toppenish brought up the rear with a league mark of 0-20.
The Greyhound linksters are hoping to prove their second place finish in league play wasn't a fluke, and are gunning for at least a second place finish at the District tourney in Warden next Monday.
"The kids are playing well right now," Uggetti said. "Second place at District is within their reach."
Senior Andrew Michels, as he has all season long, provided the glue for Grandview in yesterday's league ending match. A two-time State tourney veteran, Michels tied for the third low individual round on the day, carding a 5-over-par 77.
He opened Tuesday's shotgun round at Black Rock Creek on No. 5, and took a 3 on the par-4 hole, his lone birdie of the day. Michels, said Uggetti, played consistently throughout the day, posting a score of 38 on the front side and a 39 on the final nine holes.
In firing an 87 yesterday, Grandview's Aaron Riggs turned in his season best score. The junior carded a front nine 43 and recorded a 44 after the turn.
"That's a great round for Aaron," said Uggetti.
Junior Kaelen Nelson had the third low round for the 'Hounds, shooting an 88 (46-42).
Rounding out the Grandview team scoring was T.J. Bolt's 90, on front and back nine scores of 48-42. Bolt, said Uggetti, really clutched up yesterday, as the 90 he shot was his best 18-hole round ever.
"Lots of pars for T.J.," Uggetti said.
Spencer Lewis (98) and Kyle Womach (100) also competed yesterday for Grandview, although their individual scores weren't applied to the team total.
As a tune-up for the Monday, May 15, District tourney, the Greyhounds will play a non-league match against Sunnyside this Thursday at Black Rock Creek.