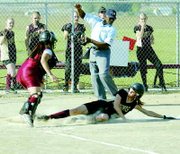 After finishing the season as league champs, the Sunnyside Christian Lady Knights played a tune-up with the Grandview Greyhounds Tuesday before opening District play this weekend.
The Lady Knights walked away with a 10-0 victory in six innings.
SCHS scored one run in each of the first four innings before coming out big in the fifth inning.
Tori Van Wingerden walked to start things off in the fifth and then Grandview's pitcher Erica Solis hit Jacqui Roberts with a pitch to send her to first base. Both runners moved up a base on a passed ball and then Brittany den Hoed brought Van Wingerden and Roberts home on a single. den Hoed then moved to second on a passed ball and went home when Emily Hernandez singled.
SCHS added two more runs in the sixth inning to force the 10-run rule to take effect.
"We gave up single runs in the first four innings which is acceptable but in the fifth with two walks and a hit batter, that was the back breaker," Grandview Coach Doug Hansen said. "We had runners in scoring position on four different occasions but couldn't come up with the clutch hit.
Hernandez pitched the game for the Lady Knights and recorded 10 strikeouts to bring her total on the season to 103.
"We haven't had anyone ever reach that mark at our school before," said SCHS Coach Sandy Harris. "She's pitched 15 out of the 20 games we've played this year."
Tori Van Wingerden went 2-for-2 at the plate with four runs scored. Brittany den Hoed was 2-for-4 with four RBIs.
"I thought we played very well," Harris said. "Our intensity level was up. We only had six hits but we hit the ball well. This was a good win for us to get ready for the District tournament."
The Knights (11-1, 16-4) will open District play this Saturday, May 13, against Lyle at Zillah Middle School at 11 a.m.
Olivia Macias went 1-for-3 for Grandview. She was followed by Gricelia Lupercio, who also hit 1-for-3, and Becca Rodriguez who hit 1-for-2.
"Thursday (May 11) we play two at Ki-Be, which will determine the fourth and fifth place spots for the crossover playoff game with the CWAC North next Tuesday (May 16)," said Hansen. "If we sweep we will play at home versus the #5 team from the North. If not, we travel to the North's #4 team."