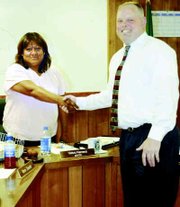 MABTON - Mabton Police Chief Raul Almeida introduced a new police officer to the Mabton City Council at Tuesday night's meeting.
Shane Thorson started his first day yesterday and will be sworn in at the next Mabton Council meeting Tuesday, May 23, at 7 p.m.
Thorson told the council a little bit about himself. He was born and raised in Alabama and went into the Army after high school.
Once out of the Army he went to college in Alabama, where he played a little college football. "I played until I realized I couldn't play football," he joked.
He moved to the Tri-Cities after school when he was offered a job at the Kennewick Police Department. He worked there for five years before resigning due to an illness.
When he had recovered from his illness and was looking forward to going back into law enforcement, he was called up to active duty by the Army. He served an additional year and one-half on active duty, including a stint in Iraq in the Sunni Triangle.
When Thorson returned to the Tri-Cities he went to work for the Richland School District as a substitute teacher. He is also a defensive coach for the Tri-City Fever.
"Law enforcement is something I've always wanted to do," Thorson said. "I feel lucky to be involved with it again."
At the next council meeting, another new police officer will be sworn in. One other officer is being trained and when he starts working in Mabton, the city will have four full-time officers and several part-time officers on staff.
The council also passed a resolution reinstating Saturday funerals effective May 15, 2006.
All costs will remain the same for a burial but there will be a Saturday funeral fee of $500. Funerals held during the week will be between the hours of 8 a.m. and 5 p.m. A Saturday funeral must begin at the cemetery no later then 11:30 a.m.
Also at Tuesday's meeting, Urlinda Gonzalez asked the council to consider looking into how the funds are used for the little Miss Mabton Pageant. She told the council the winners are picked by how many tickets the girls sell and she believes there is a conflict of interest if the pageant director, Rachel Ruelas, has her children in the pageant.
The mayor said she understood her concerns but wasn't sure what say the city had in the running of the pageant. She promised she would find out and get back to her.