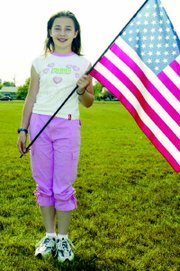 I feel many things when I pledge to the American flag. When I look at the flag I feel lucky, proud and sad.
I'm lucky that I was born in a country that has people who are willing to fight for our freedom. I'm lucky for being in a country that wants to help make the world a peaceful place.
I'm proud of our brave soldiers for all they've done for us. I'm proud of myself for helping other people from bullies. I'm proud that I live in a country that values people's freedom. I'm proud of people in America that come through difficulties and succeed no matter what.
I'm sad for innocent people in other countries that don't have the freedom that we do. I feel sad for people who lost their homes in hurricanes and floods. We help people in our country when they're having trouble. I feel sad for the brave people who died in war for our country.
I wonder what our country would be like if we didn't have peace within our own border? What if we didn't fight to keep our freedom? What if we didn't help each other? But we do. That is why I feel lucky to live here and I'm proud to be an American. These are all the things I feel and think about when I pledge allegiance to the flag.