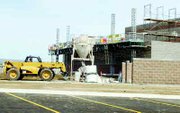 A $2.5 million expansion at Sierra Vista Middle School topped new building starts in the city of Sunnyside during the month of April.
The rest of the new starts in April combined to total a little more than $500,000 in new construction for the month
The city collected more than $18,000 in permit fees from the school district for addition of an eighth grade wing for the new school still under construction at 916 N. 16th Street.
Sunnyside School District Finance Director Dave Plesha said the eighth grade wing is part of an overall $3.5 million addition to the new school, including an all-weather track, new baseball backstops and chain link fencing.
The $3.5 million figure also includes the cost of architectural design that went into planning the eighth grade wing, said Plesha.
"The addition was something we had planned from day one," he noted.
Other new starts in April included three new homes with a combined valuation of nearly $380,000. The city collected nearly $5,000 in permit fees on the three new homes.
The city issued 102 permits in April, with 44 for building projects. Another 12 permits were issued for plumbing jobs. Ten were issued each for mechanical, sewer and water connections.
City officials made 639 inspections during April, including 363 for buildings and 155 for plumbing.
Total square footage of new construction starts for the month of April was 22,229. Of that number, 15,160-or about two-thirds-was for the Sierra Vista eighth grade wing.