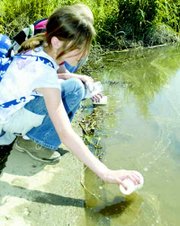 WEST RICHLAND - Trudy Long's fourth-grade class at Sunnyside Christian Elementary School joined 19 other schools and more than 1,000 kids at Horn Rapids RV Park earlier this week to release thousands of salmon into the Yakima River.
The kids were participating in the sixth annual Salmon Summit sponsored by the Benton Conservation District. Twenty tribal, state, county, non-profit and corporate organizations came together to educate the students about salmon in the region.
Mrs. Long's class started raising the salmon from eggs in early January. All of the equipment and supplies were given to the students by the Benton Conservation District. They have spent the last five months taking care of the young fish.
"This has been a great experience," Long said. "It's been a real lesson in responsibilities. They had to feed the fish four times a day, test the water for nitrates, ammonia and its pH twice a week. We had two students a week do it and they had to give up some of their recess time to do it."
The kids also learned about the life cycle of the salmon.
They must of done a good job too, because the class's fish were some of the biggest ones released into the river. Some of the fish were even tagged so they could be tracked. Long said her class will be informed of the progress the fish make.
"I told them the reason our fish were so big was because we've been praying for them every day," Long quipped.
The students spent the rest of the day attending small presentations set up around the park manned by volunteers. One of the stations Long's class went to was called Bugs for Breakfast. The kids learned about they type of bugs salmon eat.
Another subject the kids learned about was Gyotaku. This is an ancient Japanese form of making prints of fish to record the exact size of a fish. After learning about Gyotaku, the students made prints of some sample fish.
The Chinook Salmon will spend about a year in the river before heading off to the ocean, where they typically spend up to four years. The earliest the fish should start returning is two years when they will make their way back up the Yakima River to eventually spawn and continue the cycle of life.
Long's class started with about 130 eggs and released close to 120 into the river. The radio transponders the fish were tagged with will alert sensors at the dams along the river when the fish passes.
All and all the kids had a good time. They even learned how to cast a line so they can fish at a later time. Most important, the kids learned about fish and conservation. "I learned fish can survive real good," added Jordan Floyd, a student in Long's class.
.