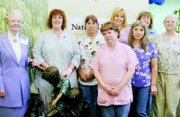 Families of residents of Hillcrest Manor in Sunnyside hosted an appreciation tea yesterday (Wednesday) for staff members and Administrator Mary Arthur.
The party began at 2 p.m. with a piano interlude by Ann Marie McDaniels.
When anniversary pins were awarded, it was apparent that the 16 employees being honored had, together, given 220 years of service to Hillcrest Manor.
The most notable thing about the awards presentation, said Arthur, is that in an era of high turnover among nursing home staff, so many of Hillcrest's employees have stayed on to dedicate their working hours to the care of the elders they call family.
Arthur led her employees with 35 consecutive years at Hillcrest, where she has seen drastic changes in nursing home care, which has become less formalized.
Arthur received a burgundy colored pin for her 35 years of service and presented a gold pin to Patricia McPherson, LPN in the manor's social services department, who, at 30 years, has been at the manor almost as long as Arthur.
"We could all tell stories about Mary, who has changed as much as the building has," said McPherson, laughing, as she went on to tell how much Arthur has been appreciated over the years by the staff for all she's done at the Manor.
Shirley Burns, dietary aide, received a 25-year anniversary pin. Marking 20-year anniversaries were Martha Caballero and Anna Rodriguez, both certified nurse's aides.
Tracy Ladiges, nurse's aide, and Roberta Neal, laundry aide, were pinned for 15 years of service. Three received 10-year pins: Kathy Ray, cook, George Redick, laundry supervisor, and Karen Schab, RN.
Five-year anniversary pins went to Pacita Ferrer, housekeeper, RN Debra Morris, Patricia Ross in medical records and Amanda Snyder, Michelle Talbert and Raquel Zepeda, all nurse's aides.
Leading a group of five on the tea's program, Don Goodhue spoke for the families of the residents. His is a well-known face at the Manor as he has visited his wife there every day for many years. He was effusive with his thanks for the help the staff provides daily.
"Imagine not having this establishment in our community. It would be a real tragedy. We would have problems in filling the holes the staff here fills," said Don Hughes, a former mayor of Sunnyside speaking at the tea as a representative of the community.
Ada Wixom, representing the elders who reside at the Manor, expressed her appreciation in getting to know her fellow residents and staff members, whom she credited with working on her behalf.
Two ladies addressed the gathering as representatives of the health care community, RN Karen Shrontz and LPN Katie Lies.
"I've been 27 years here and enjoyed every minute of it. I know you love the students I've brought to you and I know they love you," said Shrontz, who is retiring as a school nurse and nursing instructor at Sunnyside High School.
She complimented the Manor on the changes that have been made over the years. "They are good changes. They are great changes. They're terrific!," she summed up.
Lies, who fulfills psycho-social needs for the residents on a regular basis, had a word for the employees who haven't been with the Manor too long.
"I've never been in a facility where I get the welcome I get from here, whether it's everybody wearing Dr. Seuss hats or eating doughnuts on a 12-foot rope. I never know what to expect. This is not a nursing home, this is a home. All I can say to you is hold onto your hats; it's going to be an interesting ride."
A highlight of the afternoon social was revealing the Employee of the Year, selected by staff members.
After telling those gathered that no past employee had ever received the high percentage of votes as this year's honoree, Arthur called forth Tom Gehlen, head of maintenance.
With dignity, Arthur presented a surprised Gehlen with an impressive plaque and a hug.
The dignified moment was fleeting; within minutes staff members showered Gehlen in silly string, which sent him into gales of laughter.
It appeared to be a typical family reaction to keep a beloved brother in line.
&nbsp