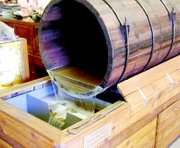 A Sunnyside tradition for 35 years, the Sunnyside Museum at 704 S. Fourth Street opens its doors on a new season today, May 11.
Built as a funeral home in 1906, the museum building originally sat at the current Safeway location before it was moved to its current site to make room for the grocery store.
The building and land at South Fourth Street for the museum were donated to the city in 1971 by Walter C. Ball and family, who owned the former funeral home.
The museum has long-standing exhibits, such as displays picturing life at the turn of the 20th century and a NASA outfit worn by local native and space shuttle astronaut Bonnie Dunbar.
Other recent additions to the museum's collection over the past year are "then and now" photos depicting Sunnyside landmarks in their turn-of-the-century heyday and as they look today.
A display that opened last year depicts the life of the milkman, a tip of the hat to the area's dairy industry. The exhibit consists of items donated last year by George Johnson, Sunnyside's last milk man who made his last run in the late 1940's.
This year will feature never-before seen exhibits, including a menagerie of stuffed animals donated by Scoon Road nursery owner Maynard Huenefeld.
Also new is a display of gowns and accessories from past Miss Sunnyside pageants and events.
Pat Kezele, a member of the Sunnyside Historical Association board that maintains the museum exhibits, said it is believed the first Miss Sunnyside reigned in 1955-56.
The museum will host an open house next Tuesday, May 16, from 6 to 7 p.m. to unveil the Miss Sunnyside display.
The Sunnyside Museum is open Thursday through Sunday of each week from 1 to 4 p.m.
For more information on the museum, its availability as a meeting place or to volunteer call Kezele at 837-7054 or the museum at 837-6010.