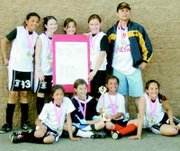 About six years from now, the Sunnyside High School girls soccer team might just be a force with which to be reckoned.
Why? Because that's when a small band of local fourth and fifth grade girls will be of high school age. And right now, they're overwhelming the competition.
The Sunnyside girls U/9-10 squad recently completed league play with a sparkling, undefeated 15-0 record.
To top off their season, the Sunnyside girls won the Yakima Valley Soccer Championship Tournament, staged in Prosser last weekend. The squad went 4-0 in tourney play, outscoring its opponents by a whopping 21 to 2 margin.
The Sunnyside team was coached this spring by Ollie Hernandez and Gil Correa.