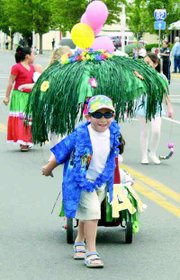 Okay parents, Its time to break out the Halloween costumes, face paint, whatever it takes to get your children ready for the annual Sunnyside Kiwanis Kid's Day Parade.
This year's event will take place on Saturday, May 20th. Sign-ups begin at the Kiwanis Youth Park on Doolittle Avenue at 10 a.m. Judging will be at 10:30 and the parade starts promptly at 11 a.m.
The local Kiwanis club in Sunnyside has sponsored the parade for more than 50 years. While numbers may have dwindled over the years, the enthusiasm that the children have for the event has not.
Entrants can choose from eight different categories to participate in. Categories include: girls bicycles/tricycles, boys bicycles/tricycles, pet or doll with or without a vehicle, ethnic costumes, clowns and fantasy characters, groups and floats, battery operated mini-cars/motorcycles and riding and exotic animals. No motorized vehicles are allowed with the exception of the battery-operated vehicles, which require an adult to accompany them throughout the parade route.
There will be first, second, third and fourth place ribbons awarded in each category. Plus all participants will receive participation ribbons and the chance in a drawing to win one of two 20" bicycles and a helmet courtesy of Sunnyside ACE Hardware and the Kiwanis Club.
The parade begins at Kiwanis Youth Park on Doolittle Avenue and will proceed down Sixth Street to Centennial Park at Sixth and Edison, where everyone will be treated to popsicles and drinks.
The Sunnyside Fire Department, Sunnyside Police Department and the Sunnyside's Promise wagon will lead the parade. The Mabton Police Department Explorers will provide the color guard. Music will again be provided, compliments of the Harrison Middle School Marching Band under the direction of Greg Kirk. The band also plans on providing a short concert at Centennial Square immediately following the parade.
Registration forms are available at the Sunnyside Parks and Recreation office, the Daily Sun News office and at local school building offices.