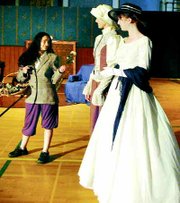 Sunnyside Christian High School will stage a challenging performance next Tuesday and Wednesday, May 16 and 17, as they present Sherlock Holmes to the public at 6 p.m. each evening.
"This was a very tough play to cast, and we have a very large cast and crew," said Beth Kapteyn, a second-year teacher who is directing her second play for SCHS.
Some of her key players have never been on stage before, Kapteyn said.
"But they are doing amazingly well," she said.
If nothing else, the costumes alone would be worth the $3 admission price.
Culled from the Christian Thrift Shop in Sunnyside, which has donated the outfits, the vintage look of sweeping skirts, lacy hats and newspaper kids in knee pants is well suited to the times of Sherlock Holmes.
Matt Haak is taking the role of Sherlock Holmes, complete with pipe and magnifying glass. His adversary, Professor Moriarty, is played by Adrian Van Oostrum.
A central character in the play is Alice Faulkner, played by Jessica Schrotenboer, who provides the romantic interest for Holmes.
"Alice has a small, romantic fling with Sherlock, although he tries to dissuade her," said Kapteyn.
Dr. Watson is played by Justin Burgers, and the ring leader of a group of crooks, Mrs. Bassick, is played by Megan DeGroot.
Another evil group, whose roles are taken by Rayann Van Beek, Luke Meininger and Jamie Durbin, bands together to imprison Alice (the damsel in distress) for reasons of their own.
Others in the cast are Heidi Haak, Andy Freepons, Caitlin Aleman, John Bosma, Yan Wang, Elizabeth Friend, Laura Schrotenboer, Taylor Gardner, Esther Ramos, Caherine Douglas, Vanessa Van Boven, Andrea Schutt and Bert den Hoed.
The questions posed by the play's plot are: Will Holmes escape a ticking bomb? Will he get the girl? Will he save the world from war?
All will be revealed next week on stage at Sunnyside Christian High School. Be there!