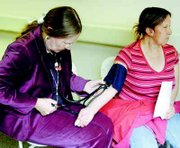 A tradition 10 years and counting, Sunnyside Community Hospital's Ladies Night Out drew an estimated 400 women and girls Thursday night.
With an emphasis on diet and screening for illnesses or conditions-such as high blood pressure or sugar levels-Ladies Night Out can play an important role in women's health.
Other tests-every one of them free-included cholesterol, vision, and pulmonary function.
"When we started doing this we knew that women are typically the ones who make the doctor appointments and are concerned about the health of their family," said Penny Duren, an administrative assistant at the hospital.
Ladies Night Out also had its share of fun, with gift bags, a raffle and a healthy "happy hour" with a menu ranging from toasted spice herb nuts to baked rather than fried empanadas.
Guest speakers also drew crowds to the hospital's atrium for presentations on breast cancer treatment alternatives, heart disease/stroke, diabetes and osteoporosis.
Though the night out is about free screenings and information, Duren said every year the event results in some women realizing they indeed have high blood pressure or cholesterol.
"I wouldn't be surprised if someone has found out they have diabetes as a result of this screening," she said of the estimated 4,000 women who have participated in the Ladies Night Out over the past 10 years.