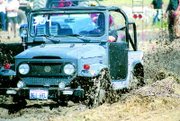 It's time to get down and dirty, as the third annual Lower Valley Mud Bog Races will be held Saturday, May 20.
The event is hosted by the Tuff Enuf Cascade Crawler Jeep Club, and will again be held at the former SunnyGrand Speedway site, just off Yakima Valley Highway between Sunnyside and Grandview.
Gates open at 7 a.m. for event participants in the mud throwing competition, which includes Jeeps and other 4-wheel drive vehicles. Registration will be held from 7 to 9 a.m. Helmets and seatbelts are required and no passengers are allowed in the competing vehicles.
At 9 a.m. gates open to spectators, with admission set at $5 per person. Children 10 years of age and younger will be admitted for free.
A drivers meeting is scheduled for 9:30 a.m. and racing begins at 10 a.m. An awards meeting is planned one hour after the last race is held.
Due to liability issues, no alcoholic beverages will be allowed on the site.
Four-wheel drive owners who want to compete that day can do so for a $35 registration fee. The registration fee for members of the Pacific Northwest Four-Wheel Drive Association is $25.
Mud Bog race volunteer Ken Long said the contest is being held in May this year instead of July because of cooler weather. He added that race organizers also hope to start a new tradition this year with two mud bog events, one in spring and the other in fall.
Long said a raffle will be held on race day. Proceeds from the raffle and the mud bog admission revenue will go back into the community, he noted, in the form of assisting needy families during the Thanksgiving and Christmas holidays.
This year, a portion of the proceeds will go toward an education fund for the two small children of Daniel Hopper, a member of the club who died earlier this year.
For more information about the mud bog race, call 509-305-0154 or 509-949-6014.