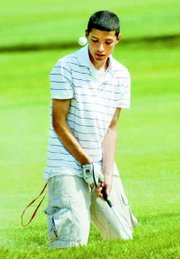 A bad day on the golf course beats a good day at the office. That's a phrase with which many golfers are familiar.
But, there are days, granted - few and far between - when even the most avid golfer just doesn't want to be out on the links. Such was the case yesterday, it seems, for many of the Sunnyside and Grandview prep athletes who showed up to close out the regular season at Black Rock Creek Golf Course.
The Sunnyside boys team had just two of its golfers available for yesterday's non-league match, and one of them, Sam Bardell, opted to pick up after nine holes of play. Of the five Grandview boys who showed up to play, several indicated to Coach Dave Uggetti they wanted to call it quits at the turn.
"I had to get on them a little bit," Uggetti said. "They shot terrible on the front side."
The scolding apparently worked, as all five Greyhounds sliced their front nine scores by three to 13 strokes on the back nine.
The one golfer who stayed in a groove from start to finish was Sunnyside's Justin Bos. The sophomore claimed medalist honors Thursday with a 6-over-par 78, on front and back nine scores of 38-40. The front nine score of his one teammate yesterday, Bardell, wasn't available, as he officially absorbed a DNF (did not finish).
Uggetti opted to keep his No. 1 golfer, senior Andrew Michels, out of the line-up yesterday. The Grandview coach said with the District tournament coming up next Monday, he felt Andrews would be better served by getting in a practice session Thursday.
With Andrews out of the match, Aaron Riggs and Spencer Lewis ended up posting the low Grandview scores. Neither golfer started their rounds resembling a No. 1 player, as they opened with a 50 and 52, respectively, on the front nine.
Riggs, though, shaved three strokes off his front side score, posting a 47 after the turn; and Lewis really began dialing in his game, carding a 45 on the final nine holes to tie Riggs with an overall score of 97.
Kyle Womach had the third low score for the 'Hounds, 100, on front and back nines of 52-48. Both, Chad Larson and T.J. Bolt tied with 109's to round out the Grandview team scoring. Larson opened with a 61 but improved dramatically after the turn, posting a 48. Bolt also excelled on the back side, going 60-49.
Grandview's Kaelen Nelson ended up taking a DNF yesterday, who, according to Uggetti, was trying to fight through a swollen thumb.
In Thursday's girls match, Sunnyside and Grandview each had one golfer at its disposal. The Greyhounds' Katie Veloz won bragging rights for Grandview by the narrowest of margins, as she toured Black Rock Creek with a 108 (55-53). Dacia Drollinger of Sunnyside was just two strokes back with a 110 (53-57).
The Sunnyside girls golf team is scheduled to compete at the Regional tourney next Monday at Meadow Wood in Spokane, while the Grandview girls team will be at Regionals next Monday at Warden. On the boys side, Grandview will also be in Warden Monday for their Regional competition, and Sunnyside will be at Indian Canyon in Spokane for Regionals the same day.