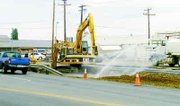 Eastbound access to South Hill Road, near the intersection of South First Street, will be closed for three days next week so crews can construct a ditch for SVID drainage pipes.
The work is part of Sunnyside's plan to build a roundabout at South First Street and South Hill Road.
The closure will be in effect from 6:30 a.m. Tuesday, May 16, to 6 p.m. Thursday, May 18.
The portion of South Hill to be closed is across from the Chevron and Jack in the Box, and adjacent to the Sunnyside Eagles Aerie building.
Those needing to access homes or businesses on the east side of South Hill Road can enter or exit through South Fourth Street or Saul Road.
In related news, Sunnyside Public Works Director Jim Bridges said there may be some temporary lane closures on South First Street near the South Hill work site.
That may result in some delays, he said, but traffic will remain open on South First.
In addition to the $450,000 drainage ditch project, Bridges said the city is still in the process of trying to buy enough right-of-way to widen South First Street and enable construction of the roundabout.
For more information or questions about the project and road closure contact the Sunnyside Public Works office at 837-5206.