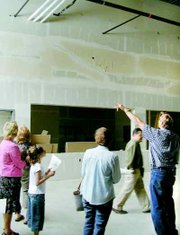 A transition underway since the beginning of the 2005-06 school year is nearing completion.
With the Sunnyside School District constructing a second middle school-Sierra Vista-set to open this fall, the administrative transition is well underway.
Doug Rogers, an assistant principal at Harrison Middle School, will take the helm full-time as Sierra Vista's principal for the 2006-07 school year.
During the current 2005-06 year, Rogers is serving half-time as assistant at Harrison and half-time as principal at Sierra Vista to coordinate classroom preparations there. Janie Hernandez is the principal at Harrison Middle School.
Aiding the transition, according to Debbie Holwegner, human resources director for the district, was the hiring of Doug Kaplicky to serve as full-time assistant principal at Harrison.
Kaplicky, who will replace Rogers at Harrison, has been at the school for the entire school calendar year. "With Doug (Kaplicky) already there it's helped the transition," said Holwegner.
Over at Sierra Vista, Rogers is part administrator and part cheerleader as a staff has been assembled for the new school.
"We're doing all the right things to make a smooth transition," said Charlie Diaz, a current assistant principal at Sunnyside High School who will move over to Sierra Vista in the same capacity. Diaz will be replaced at the high school by Heidi Hellner-Gomez.
Braven Bendzak, a maintenance supervisor for the school district, conducted a tour of Sierra Vista on Thursday for members of the Rotary Club.
While a transition is underway staff-wise to accommodate the new school, a physical transition is in progress also, as Bendzak walked the group through nearly complete classrooms and a commons area that is gradually taking shape.
The transition-for both staff and construction-will be complete August 15, the date that work on Sierra Vista will be finished, according to Bendzak.