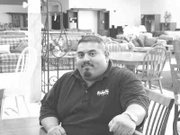 Joe Chavez, Sunnyside born and bred, is Sunnyside down to his toes. So much so that, when he was offered a scholarship to attend Wyoming Tech, he decided to stay right at home.
"I graduated from Sunnyside High School in 1995 and I had concentrated on getting good grades, so I had a lot of different opportunities. But I was 17 at the time and I was a bit nervous to go to Wyoming alone," said Chavez.
"And I just decided at the time I needed to work," he said.
Chavez was hired as a custodian by EPIC Head Start, where he had been a volunteer since he was 12 years old. Working around the children and teachers gave him the idea he might like to work inside a classroom as a teacher's assistant, so he started taking some classes at Yakima Valley Community College.
Then another opportunity presented itself.
"I was a customer of this store, and out of the blue they just called and asked if I wanted to work here," said Chavez.
His answer was yes.
And the 12 years he'd spent at EPIC went down in his memory bank as "An experience!".
"I started working at TV Town at the end of 1999. From there, I just worked my way up and now I'm assistant manager," said Chavez.
He said he's been told he's being groomed for a job as manager of a store, and that's something he said he'd welcome.
"I'm waiting to see what my opportunities are at this store," said Chavez, who added that he wouldn't mind going back to school, maybe take night courses.
Chavez had the opportunity in August of last year to put some of his EPIC training to work for TV Town.
"I used to train staff in the use of the fire extinguishers at EPIC, and, when our building caught fire last year, I ran out to try to put the fire out with the extinguisher, but the entire back wall was already blazing.
"It was really hard to see it burn, to see it go from what it was to what it became. For all the guys who work here it was a heartbreak to see the store go up in flames," said Chavez.
"The company was really good to us, guaranteed us we'd have our jobs. The very next day after the fire, they had all five of us work the whole day even though we had only one air conditioner sitting here in our new location. And, one of our regular customers came in and bought it," Chavez said. "It felt good to know we had the support of customers who had become friends of ours."
Chavez said the TV Town crew expects to move back into their previous building in two or three weeks, and he's looking forward to being back in familiar surroundings.
When Chavez isn't working, he hangs out with family.
"We're a very close family, very family oriented. We spend time with each other, barbecues, just sitting there and enjoying life. Somebody might call and say 'hey, it's a birthday' and we'll go to Oregon or Idaho to see family there, see how they're doing," said Chavez.
"A lot of people who have become part of our family are surprised how close we are, but family is very important. Especially these days when people forget who their family is," he added.
He said his one regret is that he didn't travel after he graduated from high school. But then he qualifies that by saying, "This is my home. This is where I feel comfortable."