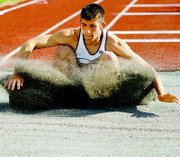 PROSSER - Led by nine Regional-qualifying marks in the throwing events, the Sunnyside girls track team placed third at the Mid-Valley League District meet this past weekend in Prosser.
The Sunnyside girls scored 121.5 points to place third as a team, trailing only Ellensburg (134) and West Valley (171). The top seven placers in each event qualified for the Regional meet, to be held this coming Friday and Saturday in Richland.
Claire Shilperoort was the only individual first-place finisher for Sunnyside, earning top honors in the discus with a throw of 108-10.5. Teammates Maria Ramirez was fifth at 92-8.5 and Molly Dolan seventh in the same event at 87-8.5 to advance to Regionals.
The Lady Grizzlies also advanced four athletes in the javelin. Schilperoort was third in the District event (108-10), followed by teammates Carly Dahlstrom in fifth (103-9), Brenda Barrios in sixth (101-10) and Melissa Miller in seventh (98-9). The javelin event was won by Selah's Headley McKenzie with a mark of 112-7.
In the shot put, Miller was fifth with a throw of 31-7 and teammate Sarah Kilian was close behind in sixth at 31-4 to advance to Regional competition.
Sunnyside's Christy Linde was second in the 100 meter hurdles with a time of 15.67. Kayla Standish of Ellensburg edged Linde for first with a time of 15.29. Linde was also second in the 300 meter hurdles, recording a time of 48:62, and third in the triple jump with a mark of 35-3.
Theresa Ramos of Sunnyside reached a personal best with a time of 5:40.31 in the 1,600 to take third place in the event. Teammate Yanet Candido was not far behind, placing fourth in 5:40.74. West Valley's Lisa Olander won the event in 5:23.24.
Ramos also came up with a personal best time of 2:34.44 to to advance to Regionals with a fifth-place time in the 800.
The Lady Grizzlies also advanced its 4x100 relay team to Regionals with a fourth-place time of 52.52. Sunnyside's 4x400 girls relay also advanced, placing fourth in 4:26.85.
Fatima Ruelas of Sunnyside earned third-place honors in the 400, in 1:01.78. The event was won by West Valley's Rachael Johnson in 59.33.
In the 200 meters, Sunnyside's Jordyne Jaquish earned fourth-place honors in 28.27. Emily George of West Valley won the event in 26.95.
Jaquish also tied a personal best mark of 5-2 in the high jump to earn a tie for fourth-place honors.
The Lady Grizzlies will send two athletes to Regionals in the 3,200. Yanet Candido was second at District in 12:35.70 and Brittany Messmore fourth in 12:40.72.
In the long jump Sunnyside's Fatima Ruelas advanced with a fifth-place jump of 15-7.5. Prosser's Breanne Wilson won the event in 16-10.75.
The younger and short-handed Grizzly boys made their presence known at Districts, led by Andrew Gonzales' second-place mark of 4:38 in the 1,600 meters. Teammate Sterling Scott also punched his ticket to Regionals in the same event, placing fourth with a time of 4:49.96. West Valley's Chris Glazer won the event in 4:30.11.
Gonzales and Scott also doubled up for Sunnyside in the 3,200, finishing third and seventh, respectively, with times of 10:28.21 and 10:38.20.
Scott set a personal record in both events and Gonzales recorded a personal best in the 1,600.
Speaking of personal bests, in the long jump Jaime Sambrano surpassed his previous best by eight inches to nail a mark of 19-8 in the event. That was good for sixth place, and a Regional berth by an inch and three-quarters.
"Across the board we had strong performances," Sunnyside Coach Robin Bryson observed. "We had a large number of PR's (personal records)."