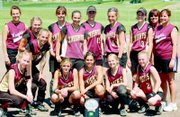 ZILLAH - Three years and counting! The Sunnyside Christian High School girls fastpitch softball team claimed its third consecutive District championship this past Saturday in Zillah.
And the Lady Knights did it in convincing fashion, 10-running both of their District opponents. SCHS opened with a 10-0 victory over Lyle, then shredded the LaSalle Lightning, 13-0.
All told, Sunnyside Christian came up with 18 hits in the two District tourney games. While nearly everyone contributed, it was junior Brittany denHoed who had the hottest bat of all. She drove in two runs on a 2-for-3 effort at the plate in the opener against Lyle, then cracked a pair of doubles and a triple in three official trips to the dish against LaSalle.
In the 'B' District tourney title game Saturday afternoon, Sunnyside Christian left little doubt as to which was the better team. The Lady Knights struck for four runs in their first at-bat, socking the game away with a seven-run explosion in the bottom of the third. DenHoed paced the SCHS girls at the plate against LaSalle, going 3-for-3. The highlight for her came in her team's seven-run uprising in the third frame, when she doubled and tripled in the inning.
Also against the Lightning, Tori Van Wingerden, Jacqui Roberts and Emily Hernandez each lashed a pair of hits. The big hit for Van Wingerden came in the third, when she socked a three-run triple. Hernandez had a double in the third, as well, and finished the title game with 3 RBI. Roberts, in going 2-for-3 that game, drove in one run.
Van Wingerden's younger sister, Melanie, was 1-for-1 against LaSalle and had two sac flies while driving in a pair of runs.
Hernandez, Sunnyside Christian's ace hurler, limited the Lightning to just three hits. She walked none and fanned four LaSalle batters.
The flame throwing Hernandez twirled a one-hitter against Lyle while striking out four and walking none.
"She pitched very well for us," SCHS Coach Sandy Harris said of Hernandez.
Harris also credits her team's defensive play in posting the two big wins at District, citing that the Lady Knights only committed one error in the two games. Against Lyle, the Sunnyside Christian players never allowed a single baserunner to get past first.
Offensively against Lyle, the younger Van Wingerden and denHoed combined for five RBI. DenHoed had a two-run single in the first inning, when the Lady Knights pushed four runs in, and the younger Van Wingerden cracked a two-run single in Sunnyside Christian's four-run second frame.
Sunnyside Christian (18-4) sewed up a State tourney berth by winning the District championship, although the Lady Knights will play an as yet undetermined foe at this coming Saturday's Regional tourney in Ellensburg, on the CWU campus beginning at 11 a.m.
"The Regional game is strictly for seeding into State," said Harris.
This year's 'B' State tournament will be staged at the new Kiwanis fields in Yakima on Friday and Saturday, May 26-27.
Lyle 0 0 0 0 0 -0 1 6
SCHS 4 4 1 1 x -10 6 0
WP-Hernandez. LP-Stanovich.
Stanovich and Struck. Hernandez and Newhouse. SCHS highlights: DenHoed 2/3, 2 RBI; M. Van Wingerden 1/3, 3 RBI.
LaSalle 0 0 0 0 0 -0 3 2
SCHS 4 0 7 2 x -13 12 1
WP-Hernandez. LP-Nichols.
Nichols, McKanna (4) and Ziegler. Hernandez and Newhouse. SCHS highlights: DenHoed 3/3, (2) 2B, 3B, 1 RBI; T. Van Wingerden 2/3, 3B, 3 RBI; Hernandez 2/3, 2B, 3 RBI; Roberts 2/3, 1 RBI; M. Van Wingerden 1/1, 2 RBI.