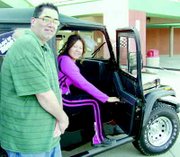 One of the big attractions during the senior party for this year's Sunnyside High School graduates will be a drawing for a 1995 Jeep Wrangler.
The senior party, which immediately follows the graduation ceremony for Sunnyside's Class of 2006 on June 2, is intended to keep seniors safe on their big night.
"The idea is to keep it a safe environment and encourage the seniors to celebrate together during their last moment in high school," said Lisa DeRuyter, a volunteer organizer of the senior night festivities.
Included in the celebration will be food, beverages and opportunities to win prizes such as a 10-speed bicycle, VCR and DVD player in casino and bingo contests.
The big drawing card, of course, is a chance to win a Jeep.
DeRuyter said several local merchants, including C. Speck Motors, made it possible to give away the vehicle.
While the fun and games and other prizes are all free of charge, seniors will have to pay $25 for a chance to win the Jeep.
DeRuyter said the fee is charged as a way to help pay for the senior party. She indicated there has also been help from community merchants and individuals towards paying for the celebration.
"It costs a lot to put on this party," she said.
Sunnyside High School graduation will be at 8 p.m. on Friday, June 2. DeRuyter said the party will begin immediately afterward at the high school.