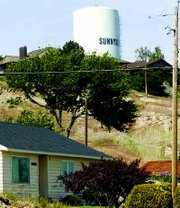 The city of Sunnyside says a push to maintain a clean water source has prompted it to conduct a house-to-house survey.
Public Works Director Jim Bridges said survey forms were mailed out last year to the city's 3,200 water customers and only 800 were returned.
This year, city crews will follow-up with those who responded to the survey, and send out a second one to those who didn't.
The goal, Bridges said, is to determine which water users need a backflow pump to keep contaminated water out of the city's drinking water.
The backflow device works to keep contaminated water, such as from a swimming pool, from accidentally being sucked back into the city's drinking water supply.
Bridges pointed out that one restaurant in the area was actually at risk of inadvertently putting beer into the city's water system if a backflow device-or cross connection control-would not have been installed at the site.
He noted there could also be risk of contamination from irrigation systems and water softener devices if backflow measures are not in place.
As a result, the city will be going house to house this year-either in person or via the U.S. mail-to determine which property owners need backflow devices.
The survey and inspections will only apply to residential water customers. Bridges said commercial water users are required to file a report with the city each year regarding their backflow status.
If Sunnyside determines a residence needs a backflow device-Bridges said federal and state guidelines are applied on a case-by-case basis-the city will install it at no charge to the property owner. The city also is responsible for yearly inspection of the backflow, he added.
There are no fines assessed for those without backflow devices, Bridges emphasized. "But there will be if you lie to us," he said of residents who try to deceive the city on the survey form.
He estimated it will take 60 working days for the city to survey and inspect all of its residential water users.