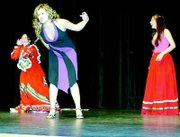 Continuing a 28-year tradition, the senior class of Sunnyside High School presented the 29th annual Senior Follies this past Friday and Saturday nights at the Sunnyside High School auditorium.
"I thought it went great," Holly Ohler, a senior class advisor at Sunnyside High School, said. "The kids were really excited about it."
The Follies were started by the 1978 senior class at Sunnyside High School to raise money for the American Cancer Society. Chris Shearer and Lester Resendez, two students at Sunnyside High School in 1978, were diagnosed with cancer and the Follies were started in their honor. Shearer passed away in July 1978 but Resendez beat his cancer and is still around today.
In the past 28 years the Follies have raised more than $90,000.
This years Follies started with a rousing rendition of the National Anthem performed by Adolfo Blanco on the saxophone.
After that there were skits and some musical performances. One such musical performance was again by Blanco. He played the song "For Elise and More" on the piano that left everyone talking about it.
"Adolfo went out of his way to participate and he was amazing," Ohler said. "He's one of the most talented musicians I've ever heard."
The students have been practicing for the last two weeks and had only two nights of rehearsal before performing.