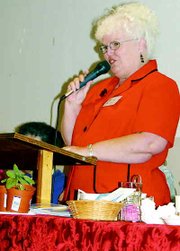 PROSSER - A mother at age 15 and a grandmother at 32 is just part of the life story that Clatskanie, Ore. resident Faye Marie Miller shared Monday with the Lower Valley Christian Women's Club.
Miller said her early years were shaped by her belief while as a youngster that there was no way God could love her.
When she was a little girl, Miller said she was molested, which led to years of bitterness and an inability to trust men.
"By the time I was 23 I was a single mom with six kids," she said.
Things began to improve for her, Miller said, when she found a man who loved her and her children. Now, more than 30 years later, she said they are still happily married and have 42 grand children.
But her years as a go-go dancer to support her children when she was a single mom came back to haunt her.
"I told myself I needed more energy to keep dancing," Miller recalled. "I had become addicted to amphetamines."
Just a few years into her marriage Miller said she was rushed to the hospital, where doctors found the years of amphetamine use had eaten away the lining of her stomach.
During her long recovery and healing in the hospital, Miller said the time alone was her first in many years.
In the solitude, Miller said her soul began to heal as well when she realized she didn't have a relationship with God.
"I realized there was a peace I could have, that God loved me and wanted to have a relationship with me," she said. "I knew if I died I would be separated from him forever."
Upon accepting Jesus Christ as her Savior and finding that relationship with God, Miller said that in the years since she learned to forgive the person who molested her before he died.
"I was able to bring him into relationship with God before he died," she concluded.