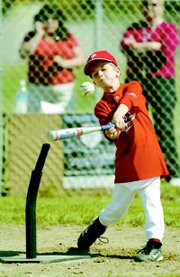 Eight-year-old Joshua Mungia was named overall champion at the 2006 fourth annual Pepsi Pitch, Hit and Run Sunnyside competition and was invited back to compete in the sectional competition.
The competition was held at South Hill Park this past Saturday. Four age groups comprised of 7-8 year olds, 9-10 year olds, 11-12 year olds and 13-14 year olds were hoping for a first place finish in any of the three competitions or to be named overall champion to advance to the sectional competition to be held at South Hill Park Saturday, May 20, at 10 a.m.
The Pitch, Hit and Run tests three fundamental aspects of baseball - pitching, hitting and running.
In pitching, the participant is tested throwing stirkes to a designated "strike zone" target.
In hitting, the participant hits a ball off a stationary tee for distance and accuracy.
In the run, the participant is timed, starting from second base, touching third then home.
All events are individually scored and converted to a total point score through the use of conversion tables.
In the seven and eight year old group, Joshua Mungia got a blue ribbon in hitting, pitching and was named overall champion of the competition. Thomas Niemyer received a blue ribbon in running.
Brandon Moore placed first in pitching for the nine and ten year olds. He also won the all-around blue ribbon for his age group. Elijah Pena took the blue ribbon in running and Mason Kupp won for hitting.
Eleven year old Trey Serl did so well in the pitching event it enabled him to take the all-around title in the 11-12 year old group. Matthew Moore was awarded the blue ribbon in hitting and running.
Tyler Niemeyer smacked the ball 186 feet to win the blue ribbon in hitting for the 13-14 year old group. Jaime Sarmiento took the blue ribbon in pitching and speedster Oscar Hernandez won the running and all-around ribbon.
All the blue ribbon winners will be competing this coming Saturday at Sectionals to try and advance to the team championship held at Safeco Field in June. The state champions will compete in the national competition held in Pittsburg at the 2006 Major League Baseball All-Star Game.