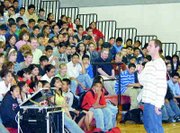 Encouraged to surround themselves with "dream builders", Harrison Middle School students in Sunnyside received a first-hand example of how one person can make a difference.
At the age of 11, Florida native Hunter Scott began a history research project that ultimately led to the exoneration of Charles McVay, captain of the U.S.S. Indianapolis, a naval destroyer that was sunk just days before the end of World War II. McVay was court-martialed in the months following the tragedy, despite testimony that showed he was not at fault.
Scott was in Sunnyside last Friday, speaking to Harrison Middle School students about his research and the impact they as individuals can have.
Scott described how the Indianapolis delivered the first atomic bomb, then was hit by an enemy torpedo on its return. The Indianapolis, a flagship of the U.S. Navy, was unescorted as it made its way through waters which, McVay was told, had no submarines.
Scott told the students his interest in the subject began while watching the movie Jaws, in which a character recalled seeing men eaten by sharks.
That account was based on actual reports by the men of the Indianapolis, who watched helplessly as many of their colleagues were picked off in the water by sharks during a four-day wait for help.
All told, 880 men perished in the sinking of the Indianapolis, the worst naval disaster in U.S. history. Only 316 survived the initial torpedo hit and four days without food and water in the Pacific.
Scott said the Navy never responded to the mayday signal from the Indianapolis, and its men were only found accidentally by a plane flying overhead.
Scott described the obstacles in his path during the research, ranging from a technicality which through no fault of his own disqualified his history project from a fair, to a letter from then President Bill Clinton stating there was no way that Scott, an 11-year-old boy, could hope to clear McVay's name.
Scott's research gained new life when a Congressman from his district listened to his story and pursued legislation in Washington D.C.
The legislation ultimately led to the exoneration of McVay, which was enacted by Clinton's signature.
The entire process from the time Scott first started his research to the time McVay was exonerated took about six years, he said. The adventure led him to appear on television shows such as National Geographic and coverage in national magazines.
Now 20, Scott is a junior at the University of North Carolina.
"One person can make a difference," he told Harrison students. "And don't let anyone tell you otherwise."
An example of how one person can make a difference is Israel Ibarra, a Mabton seventh grader.
Ibarra's interest in Scott's research stemmed from a book about the Indianapolis in which Scott had written the preface. That, in turn, led to a reading assignment with his teacher Julie Urrutia and ultimately a request for Scott to appear here.
The result was 17 presentations last week and this that Scott made to students throughout the Yakima Valley.
Urrutia said the impact of Scott's work will continue in her classroom, as her students are "paying it forward." Based on the movie, "Pay it Forward," each seventh grader is doing favors for three people, who in turn do not pay back the favor, but pay it forward to three other people.
"It's taken a book which was on a shelf and brought it to life," Urrutia said of Ibarra and his interest in Scott's research.
Added Ibarra, "I hope I can make a difference in the world."
He's off to a good start, having already made a difference in this corner of the world.