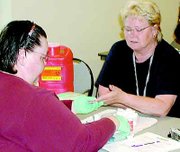 Sunnyside Community Hospital provided no charge diabetes and cholesterol screens to 464 people around the Lower Valley last week.
The event, called Outreach 1000, was part of the celebration of National Hospital Week and National Nurses Week.
The hospital used staff from its laboratory as well as several nurses from other hospital departments to staff the screening sites all last week.
Tests were performed at two Grandview schools, Sunnyside High School, Nuestra Casa in Sunnyside, Washington State Migrant Council sites in Grandview and Sunnyside, the Sunnyside Community Center, Grandview Senior Center and at the Ladies Night Out event last Thursday at the hospital.
"We're very pleased by the response we received throughout Sunnyside and Grandview," said hospital CEO Jon Smiley. "Our area has a very high incidence of diabetes and we identified several patients needing additional follow up with their family doctor."
Blood sugar screens help identify persons who might be at risk for diabetes. Cholesterol screens are important to identify persons who might be at risk for heart and vascular disease.
The National Cholesterol Education Program has published these general cholesterol guidelines and considers a total cholesterol number above 200 mg to increase a person's risk of heart disease.